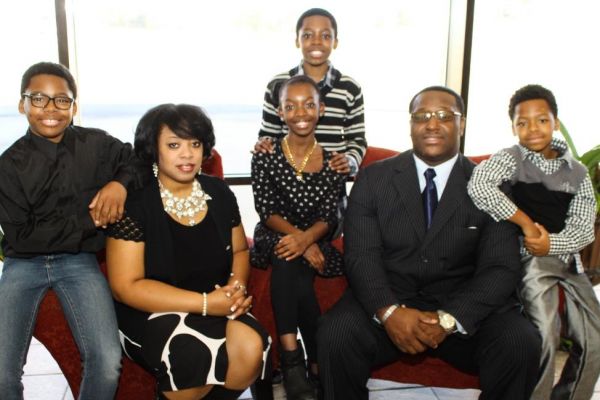 Larry Davidson, Jr. was born in Florence, AL on April 28, 1977.  He is the oldest of five living children born to Rev and Mrs. Larry Davidson, Sr. of Tuscumbia, AL.   He accepted Jesus Christ as his personal Savior in September 1984 (age 7).  He was baptized by his father who served as pastor of Macedonia M. B. Church, Town Creek, AL.  PastorDavidson graduated from Cherokee High School in May 1995.  His post-secondary education includes studying at Bethel College, Whitesburg-Heritage Bible College, and New Orleans Baptist Theological Seminary.
He has also served his country as a soldier in the U.S. Army Reserves (1994-2000).   During this time he worked and gained knowledge in ministry as he served in assisting the chaplain in his duties.  He had the experience of also travelling abroad (Germany twice, and El Salvador).
Pastor Davidson is married to Sophia L. Davidson. The Lord has blessed this union with four children: Larry III, Joshua, Kyla, and Carnell.
He accepted The Lord's call into the Gospel Ministry in June 1995; and on August 6, 1995 he preached his first sermon and was licensed by the Mount New Home M. B. Church, Leighton, AL under the direction of the late Rev. A. J. Mayes.  Upon relocation to Huntsville in, he and his family united with Progressive Union M. B. Church under Dr. Wayne P. Snodgrass.  He was elected as pastor of Willow Grove M. B. Church in Prospect, TN on March 3, 2007 and served there until December 2012.
On January 1, 2013, Pastor Davidson became the pastor of Hopewell M. B. Church. We are grateful to God that he, in his infinite wisdom, has chosen to unite Pastor Davidson and his family with the Hopewell family as we continue the great legacy of this awesome church.
Pastor Davidson has previously served as 1st Vice Moderator and Dean of Christian Education for the Greater Richland Creek Missionary Baptist Association, Inc.  He has also served as Assistant Dean within that same association.   He is presently serving as the Director of Evangelism for the Tennessee Missionary & Educational State Convention.
Pastor Davidson carries a strong conviction in ministry toward the equipping of the saints and the preparing of persons for performing in their purpose. In August 2011 he completed the requirements for certification as an instructor in the Congresses of Christian Education of the National Baptist Convention, USA and Tennessee Missionary & Educational Baptist State Convention.
He also volunteers time in the community toward the enrichment of young lives through mentoring and being a listening ear.  He is also an honorary member of NAACP of Giles County, TN.  Pastor Davidson is also a member of the Greater Huntsville Interdenominational Ministerial Fellowship.
Pastor Davidson believes the power of the Gospel is about more than what happens on a Sunday morning.  He believes that its power is made REAL as believers are challenged to not just share a message, but are committed to become what the message instructs!
He has embraced his calling with anticipation and fear. Anticipation about what is yet to come.....yet with reverential fear of the Awesome God to whom he must give account!!
Soli Deo Gloria!